Ali Rıza Kural, M.D. was born in the Bafra district of Samsun Province in 1951. After completing his primary, secondary, and high school education in Samsun, earned the right to enroll in Medical School of Istanbul University in 1968. He graduated from the medical school and started the specialization training in Urology Department of Cerrahpasa Medical Faculty in Istanbul University in 1974. Following the completion of his dissertation titled as "The place of lympangiography in Urology", he began his military service in Erzincan Military Hospital. Then he worked nearly 1 year in "Western General Hospital" in Edinburgh (Scotland) and earned the degree of Associate Professor in the same year. During the course of his training in Scotland, he followed training seminars on endoscopic prostate surgery, endoscopic urinary tract stone surgery (percutaneous nephrolithotomy, ureteroscopy) delivered by "Institute of Urology" in London. By 1986, he began to perform the first closed kidney stone surgeries in Cerrahpasa Medical Faculty of Istanbul University. In the same period, he started to employ a method of closed surgery called as "TURP" on benign prostatic hyperlasia cases. Since then, he performed more than 4000 TURP operations along with similar number of nephrolithotomy and ureteroscopy procedures successfully.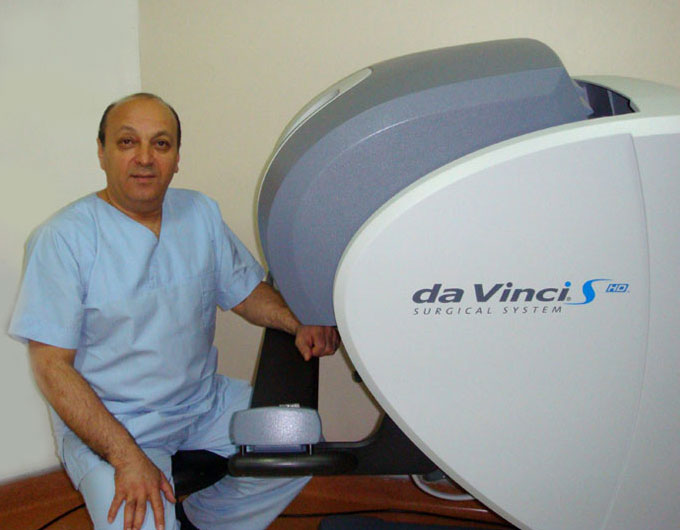 Ali Rıza Kural, M.D. who became Professor in 1995, carried out the first practice of urologic laparoscopy particularly on cases of kidney and prostate cancer (Laparoscopic radical nephrectomy on July 2002 and laparoscopic radical prostatectomy on May 2003). Since 2010 Dr. Kural, who performed the first prostate cancer operation with da Vinci Robotic Surgery in Turkey, Eastern Europe and Middle East Region (please click), has been successfully conducting his operations and urology program in Acibadem Maslak Hospital. Dr. Kural authored more than 150 articles in national and international journals, and also written chapters and sections again for national and international textbooks. While he continues to contribute to the spreading of the use of endoscopy in Turkey by taking part in courses and seminars given by the Turkish Urology and Endourology Association, he is also invited to the following international meetings that are held every year: ERUS (European Robotic Urological Symposium) and WRUS (World Robotic Urological Symposium).
Prof. Kural, who was an academician in Cerrahpasa Medical School of Istanbul University and worked as the Head of Urology Department in Yasar Hospital and Yesilkoy International Hospital between the years of 1991-1997. Prof. Kural was the Head of Urology Departments in Florence Nightingale Hospitals from 1997 until November 2010. Currently, Dr. Kural is the Head of Robotic Surgery & Urology Department of Acibadem Maslak Hospital, Istanbul.
The first robotic urologic surgery in Turkey had been performed by Ali Rıza Kural, M.D. in 2005. Currently, Prof. Kural is on the 8th year of this program with more than 800 Robotic Radical Prostatectomies, more than 150 Robotic Kidney Surgery and more than 50 Robotic Bladder Surgeries successfully. Dr. Kural has presided many meetings and given numerous speeches in various international and national conventions. Furthermore, currently he is a member of the editorial board of the "Journal of Robotic Surgery" and board member of ERUS (European Robotic Urology Society)
Prof. Kural hosted and the president of World Endourological Congress WCE 2012 which was held in Istanbul in September 2012. The meeting achieved great success with 2000 international and 600 national attendees. It was also the first meeting in Turkey to broadcast live 3D surgeries.
SLS (Society of Laparoscopic Surgeons) honors one surgeon in 3 different specialties each year during it annual congress as Honorary President. This year, Prof. Kural has been honored as the Honorary President in Urology.